Philips Fidelio L1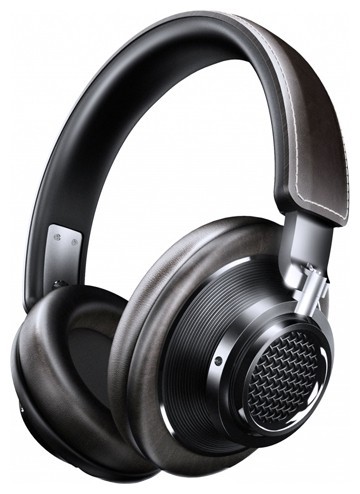 Fidelio L1 headphones combine the highest standards in sound and comfort for an authentic listening experience. Expertly engineered for natural sound as faithful to the original as possible. Exquisitely crafted for long-lasting comfort.
Product features
High-definition optimally vnted neodymium speaker drivers
The neodymium drivers respond to all your music's dynamics. The design includes a vent in the centre which emphasises the middle and low frequencies, producing the acoustic energy that brings extended yet controlled bass and a transparent mid-range. The drivers also feature a light voice coil that gives the system nimble response to match the pace of your music and deliver high-definition sound.
Engineered aluminum earshells for acoustic precision
Aluminum earshells selected for their strength reduce unwanted vibration and resonance. They are mounted on a layer of engineering plastics to make the headphones even more stable. As a result they dampen vibration as effectively as possible for accurate, incisive sound.
Speakers tilted to the ear's natural angle for clarity
A pre-tilted driver matching the ear cup's natural angle directs the sound straight into the ear canal. This means much less of the coloration that can occur when sound reflects off the outer ear, together with a more realistic soundstage and enhanced comfort.
Memory foam earpads designed for an ergonomic fit
Each material used for the Fidelio L1 has been carefully selected for longer listening comfort. Deluxe memory foam ear-pads provide an ergonomic fit. Not only does the foam mould itself perfectly to the shape of your ear, but it also forms a seal that preserves the best bass response and reduces unwanted outside sounds.
Acoustic semi-open back architecture for natural sound
The semi-open back design combines the balanced, transparent sound of an open back with the deep bass and noise isolation expected from a fully closed back. It includes finely woven, acoustically resistant fabric built into the acoustic grilles for controlled noise isolation, minimal leakage and reduced ambient noise.
iPhone remote,mic, 6.3mm adapter and pouch
iPhone remote, mic, 6.3mm adapter and pouch.
Carefully tested drivers for the best balance in sound
Acoustics engineers test and handpick each driver, pairing them for the best stereo experience
Excellent noise isolation and spacious listening experience
Excellent noise isolation yet retaining spatial music experience
Frequency response tuned to discerning listeners' preference
Our acoustics engineers have designed the Fidelio L1 to account for all the minute details that affect how listeners hear sound, such as how the ear reflects sound and resonates in response. We've also drawn on extensive research with discriminating listeners to discover the true, balanced sound characteristics they prefer. The results is that these headphones have been engineered to reproduce sound as faithful to the original as possible and attuned to modern recording styles.
Oxygen-free, fabric-lined cable for a high quality signal
Oxgen-free cable for high quality signal transmission
Premium materials including aluminum and fine leathers
Premium design in aluminum, real leather, protein leather and fabric
Eco passport - Our environmental product specifications overview
Philips cares about the environment and society at large, and strongly supports eco-design of products.
| | |
| --- | --- |
| Manufacturer | Philips |
| Microphone | Yes |
| Headphone type | supra-aural |
| Connection type | wired |
| Iphone support | Yes |
| Headphone connector | mini jack 3.5 mm |
| Carrying case | Yes |
| Color | black |
Categories: Philips
Philips Fidelio L1 reviews
Be the first to write a review of this product!