LG Nexus 4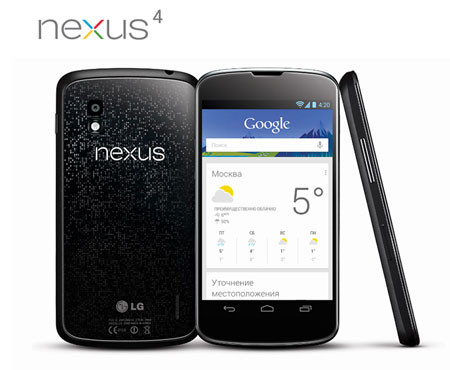 The latest phone from Google.
Google Nexus 4. Speed and power to spare.
With your favorite Google Apps, an amazing Photo Sphere camera, cutting edge hardware, and access to your favorite entertainment on Google Play - Nexus 4 puts the best of Google in the palm of your hand; all with no carrier commitment or contract.
Search gets smarter with Google Now
The right information, right when you need it.
Nexus 4 comes with the latest version of Google Now to bring you relevant and useful information, before you even ask. Weather, traffic, transit schedules, and even the latest scores come automatically, appearing throughout the day just as you need them. There's no digging required. Google Now organizes the things you need to know and frees you up to focus on what's important to you.
Meet the new Google Maps
Getting from A to B has never been faster-or easier.
The newly designed Google Maps app makes navigating your world effortless. Never get lost as you discover new places and visit old favorites. Whether you're in an unfamiliar town or uncovering new local favorites, navigate like a pro with Google Maps to find the top places to eat, shop, play and more.
Outsmart traffic jams. Know what's down the road with Google Maps so you can choose the best route. If bad traffic lies ahead, dynamic rerouting will proactively suggest faster routes. Just one tap and you're on your (new) way.
Capture and share your world with Photo Sphere
Discover panoramic pictures that put you in the scene.
Up, down and all around you, it's like no camera you've ever seen. With the high-performance 8MP camera, you can snap pictures in every direction that come together into incredible, immersive photo spheres that put you right inside the scene. View your photo spheres right on your phone, share them with friends and family on Google+, or even add them to Google Maps for the world to see.
Built for speed
The quickest way to connect, powered by Android.
Nexus 4 comes with a cutting-edge Qualcomm Snapdragon™ S4 Pro processor and a vibrant 1280-by-768 4.7-inch display, so you've got speed and power to spare with stunning clarity and crisp, natural color. Zip around the web, experience rich 3D graphics and gameplay, and effortlessly switch between multiple apps without ever missing a beat. And cutting-edge G2 Touch Hybrid display technology means you feel like you're touching every pixel - all protected by scratch resistant Corning® Gorilla® Glass 2.
Google Play
All your favorite games and apps, in the palm of your hand.
Get all the apps and games you love on Nexus 4 - with over 975,000 titles to choose from on Google Play, there's something for everyone. Find the most popular free and paid apps, explore hand-picked collections, browse by category or simply search for your favorites. And now, with Google Play Music All Access, you can enjoy unlimited listening to millions of songs, create custom radio and skip as much as you want. Try it free for 30 days.
| | |
| --- | --- |
| Manufacturer | LG |
| Phone type | smartphone/communicator |
| OS platform | Android |
| OS | Android 4.2 |
| Body type | classic |
| Color | black |
| Number of SIM cards | 1 |
| SIM card type | Micro-SIM |
| Screen diagonal | 4.7 in |
| Sensory screen | Yes |
| Built-in memory capacity | 16Gb |
| Memory card slot | Yes |
| 3G UMTS support | Yes |
| Wi-Fi | Yes |
| Bluetooth | Yes |
| GPS module | Yes |
| Processor | Qualcomm APQ8064 |
| Battery capacity | 2100 |
| Dimension | 68.7 × 133.9 × 9.1 mm |
| Weight | 139 g |
Categories: LG