Canon Speedlite 320EX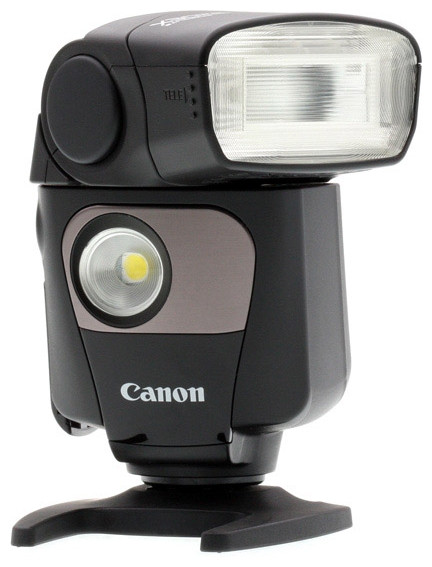 In a first for Canon Speedlites, the versatile new Speedlite 320EX features an LED light on the front of the flash body that can be used to illuminate nearby subjects in dim light. The light is ideal for video recording but can also be used as a modeling light or as an AF assist beam during Live View shooting. When used with EOS DSLRs that have integrated Speedlite transmitters, the Speedlite 320EX can be used as a wireless slave unit positioned off-camera. A flash release function further facilitates wireless flash shooting by enabling the shutter to be released remotely from the Speedlite 320EX with a two-second delay, which gives the photographer time to re-aim the flash if necessary. The Speedlite 320EX combines rich bounce functionality with high performance, ensuring smooth, professional-looking results.
Flash coverage and guide number can be changed manually by extending or retracting the flash head. The Normal position provides wide coverage equivalent to a 24mm lens (full-frame) with a guide number of 79 (ft.) / 24 (m) at ISO 100. The Tele position boosts the guide number to 105 (ft.) / 32 (m) at ISO 100 while providing coverage for lenses 50mm and longer (full-frame).
Lightweight, pocket-sized, grip-friendly, and with an intuitive, easy-to-operate design, the Speedlite 320EX is powered by 4 AA batteries (not included) and recharges silently in approximately 2 seconds.
| | |
| --- | --- |
| Supported cameras | Canon |
| Flash mount | shoe |
| Flash type | normal |
Categories: Flash
Canon Speedlite 320EX reviews
Be the first to write a review of this product!