Sony Alpha SLT-A57 Kit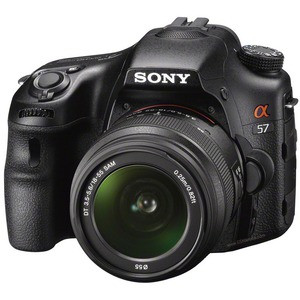 The Sony alpha A57 is a 16.1 MP digital camera (kit with 18-55 mm lens) that lets you capture stunning close-ups as well as vast landscapes. With an EXMOR HD sensor, this Sony digital SLR camera allows you to record movies in Full HD resolution with superior quality. Moreover, the Sony alpha a57 captures still images at 10 fps and shoots videos at 60 or 24 fps. The large 3-inch LCD display of this Sony digital SLR camera makes it easy to view photos, read menu, and compose shots. With a high ISO light sensitivity (up to 16000), this 16.1 MP digital camera captures clear photos even in low-light conditions.
High speed, high resolution
Capture up to 10fps at full 16.1MP resolution with continuous auto focus and auto exposure control thanks to Sony's award-winning Translucent Mirror technology - perfect for high-speed sports photography or snapping a unique sequence of photos. The Exmor APS HD CMOS sensor achieves high resolution with reduced sensor noise, even in lowly-lit settings.
Capture fast action close-ups
Zoom in on fast action and never miss a moment. By using the center two-thirds of the image sensor, tele-zoom high speed shooting brings the action closer with a 1.4x effective increase of focal length, allowing you to shoot up to 12fps at 8MP resolution with continuous auto focus and auto exposure.
Extend the reach of any lens
Utilizing Sony's exclusive By Pixel Super Resolution technology, clear image zoom increases the effective focal length of your lens up to 2x by digitally magnifying the center of your image with nearly imperceptible degradation. It virtually doubles the effective focal length of any lens you use, providing greater shooting flexibility.
Snap the perfect portrait
Capture a perfectly-framed portrait every time. When you take a photo of a person in auto portrait framing mode, the camera saves an additional, optimally-framed image of your subject. By combining the rule of thirds with advanced imaging technologies, auto portrait framing mode is the easy way to a balanced, perfectly-composed portrait.
Incredible HD movies
Very few DSLRs shoot super smooth 60p or cinematic 24p movies at Full HD 1920 x 1080 resolution - the A57 is one of them. Capture high quality 1080/60p AVCHD video that looks great on your HDTV, or shoot in a 1080/30p MP4 format that uploads easily to the web for convenient sharing with friends and family.
Big, bright viewfinder
Take a peep through the Tru-Finder electronic viewfinder - boasting 1.2 million dots for ultra-high resolution, images pop with richness, clarity and detail. Everything is easy to see with 1x magnification and 100% frame coverage. Plus, adjustable magnification optimizes visibility for those who use eyeglasses.
| | |
| --- | --- |
| Slots | remote control |
| Image formats | RAW |
| Crop factor | 1 |
| Frame ratios | 16:9 |
| Matrix megapixels | 16.7 |
| Bayonet | Minolta A |
| Frames per second | 12 |
| White balance | auto |
| Memory card type | SD |
| Matrix | CMOS |
| Viewfinder | electronic |
Categories: Sony
Sony Alpha SLT-A57 Kit reviews
Be the first to write a review of this product!